MEET DASHAE
Ok yes, our shoes are real cute, but what's even more cute and cool and stylish and inspiring are all the badass people in our shoes. So this year, we decided to pass the mic to some longtime supporters and CS connoisseurs, and asked them to help bring our shoes to life. The challenge? Style one shoe three different ways and tell us a little bit about yourself while doing it. The result? As expected, incredible.
Keep scrolling to see what Dashae (@paperpapayas on IG) gets up to in our Solimar Rafs.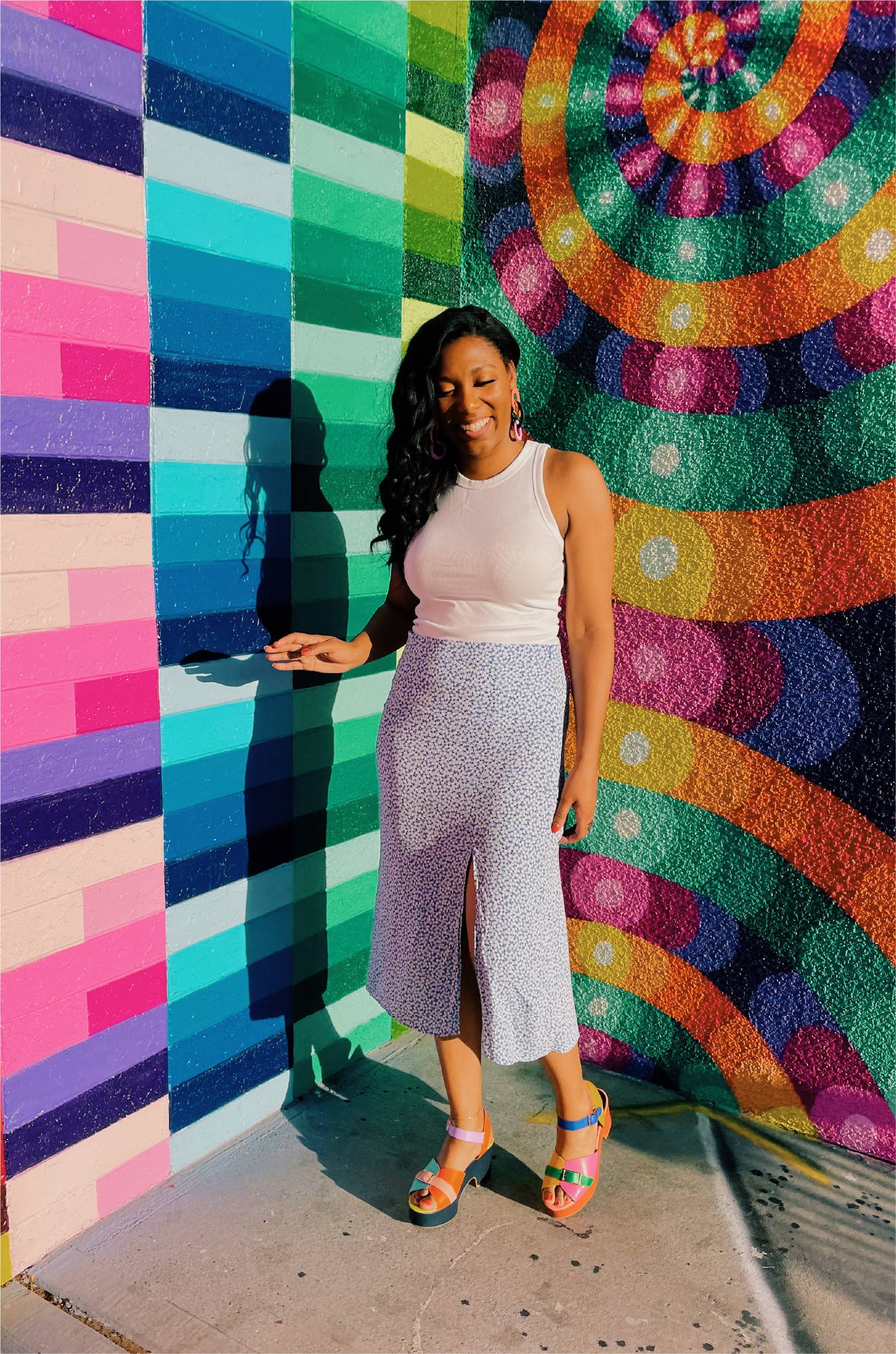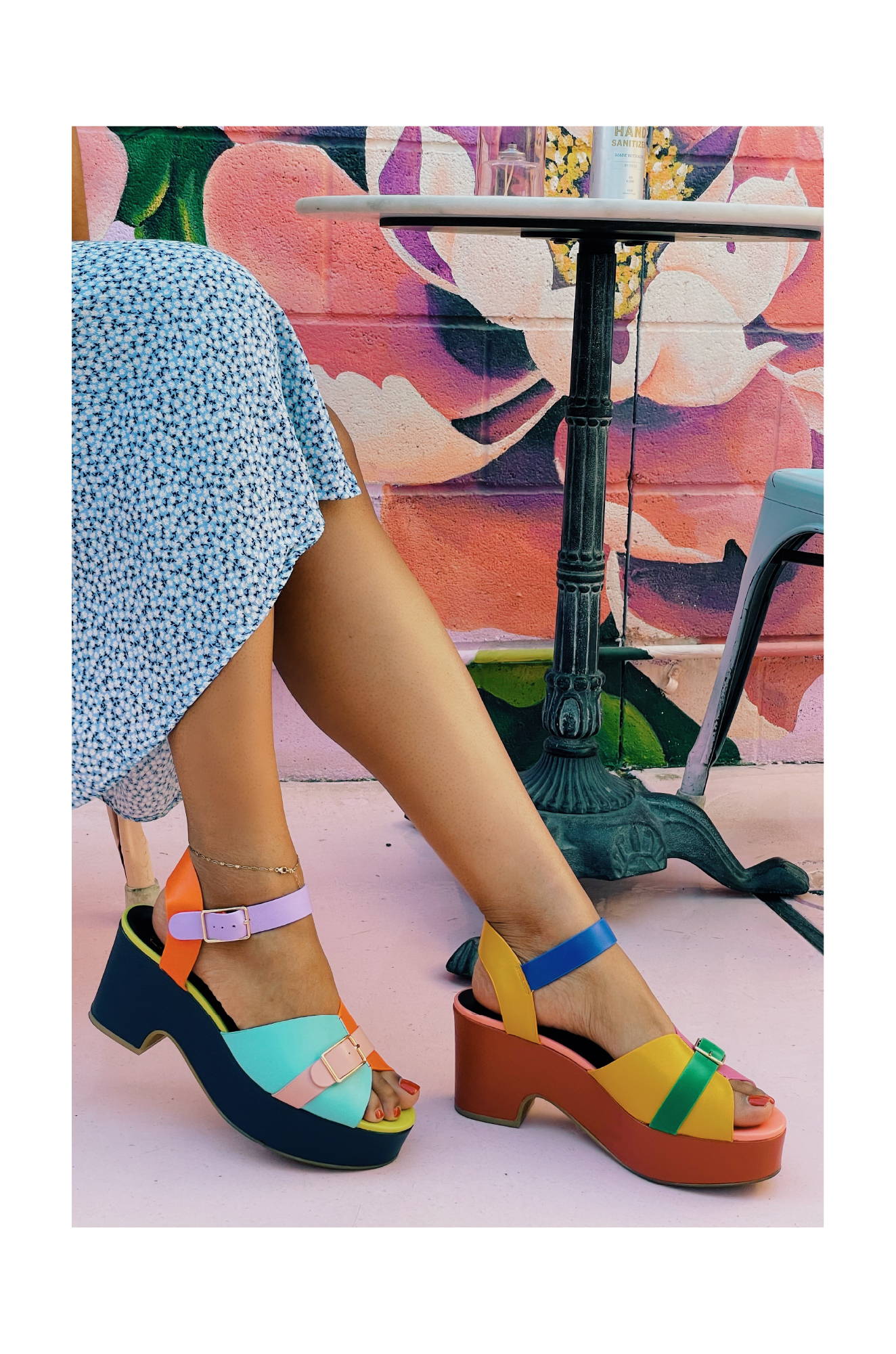 Who are you and what are you about?
Hey, I'm Dashae! I'm a fun loving Trinidadian-American Creative. I run my own small business, Paper Papayas—creating unique handcrafted statement earrings!

Where are you from & where do you live now?
NYC born, living life to the fullest in Las Vegas!

How did you find out about Charlotte Stone?
Online Shopping! I found the Rian Mules in the Grape color and I haven't turned back since!

Describe your style in three words.
Minimal, Maximal, & Flirty
What inspires you?
I would have to say MUSIC. Music has the ability to transport you through time and space. You can imagine anything you want to do or be through music. I feel it's the most universal form of communication.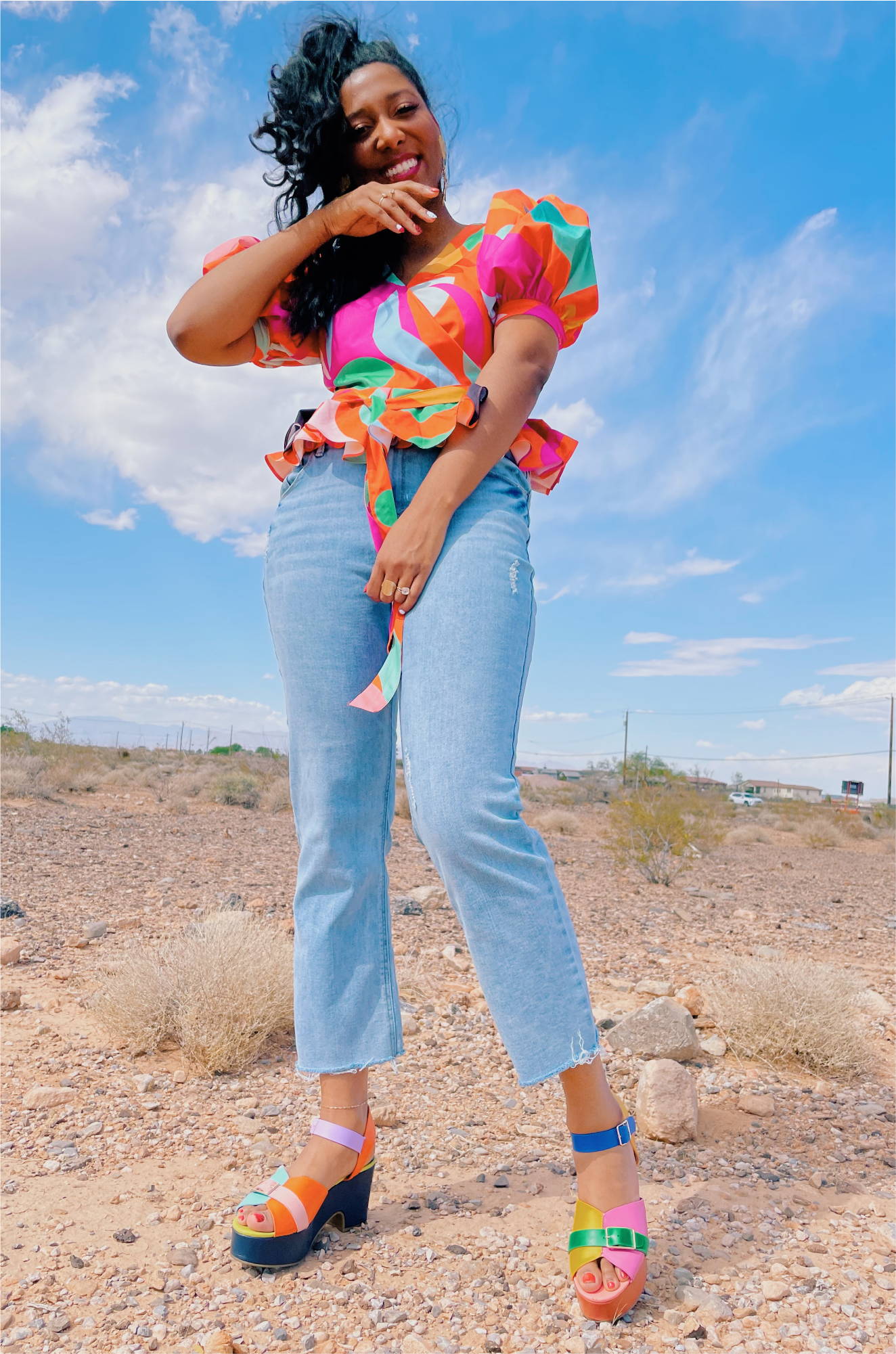 On an average day, you'll find me in:
A graphic t-shirt and patterned skirt in my studio creating some bomb earrings.

When I'm not working, you'll find me:
Downtown with my husband, a cocktail, and Charlotte Stone on my feet.

What are you passionate about?
I'm really focused on my brand and business. Ultimately, my goal is to use my art/jewelry to help empower others and also allow for vulnerability. I want to share my culture and help connect people to their cultures as well.
Who or what inspires or influences your style?
As a young women my mom had dreams of being a fashion designer. She traded those dreams in order to provide for our family- but one thing she never lost was her sense of style.
My mom is so fly.
I can only imitate what comes to her naturally. And being a Caribbean woman, she passed on that vibrant, 'larger than life' culture which I always try to incorporate in my personal style.
Do you have a style icon? Why are they your style icon?
Well. I will have to say Traces Ellis Ross. She's not afraid of color and mixing prints. She transitions flawlessly from sneakers to stilettos. She embraces elegance but also "quirky-ness". She stands tall in confidence and and smiles with kindness. Like, seriously, have you seen her look bad in anything? Not possible. I would definitely trade closets with her any day, and then we could grab brunch. 😉
What are you watching or reading or hobbying right now?
I'm always watching Fraiser. Currently reading, The Complete Sherlock Holmes Collection and I LOVE curating playlists!

What three things could you not live without?
Wine, good music, and my plants.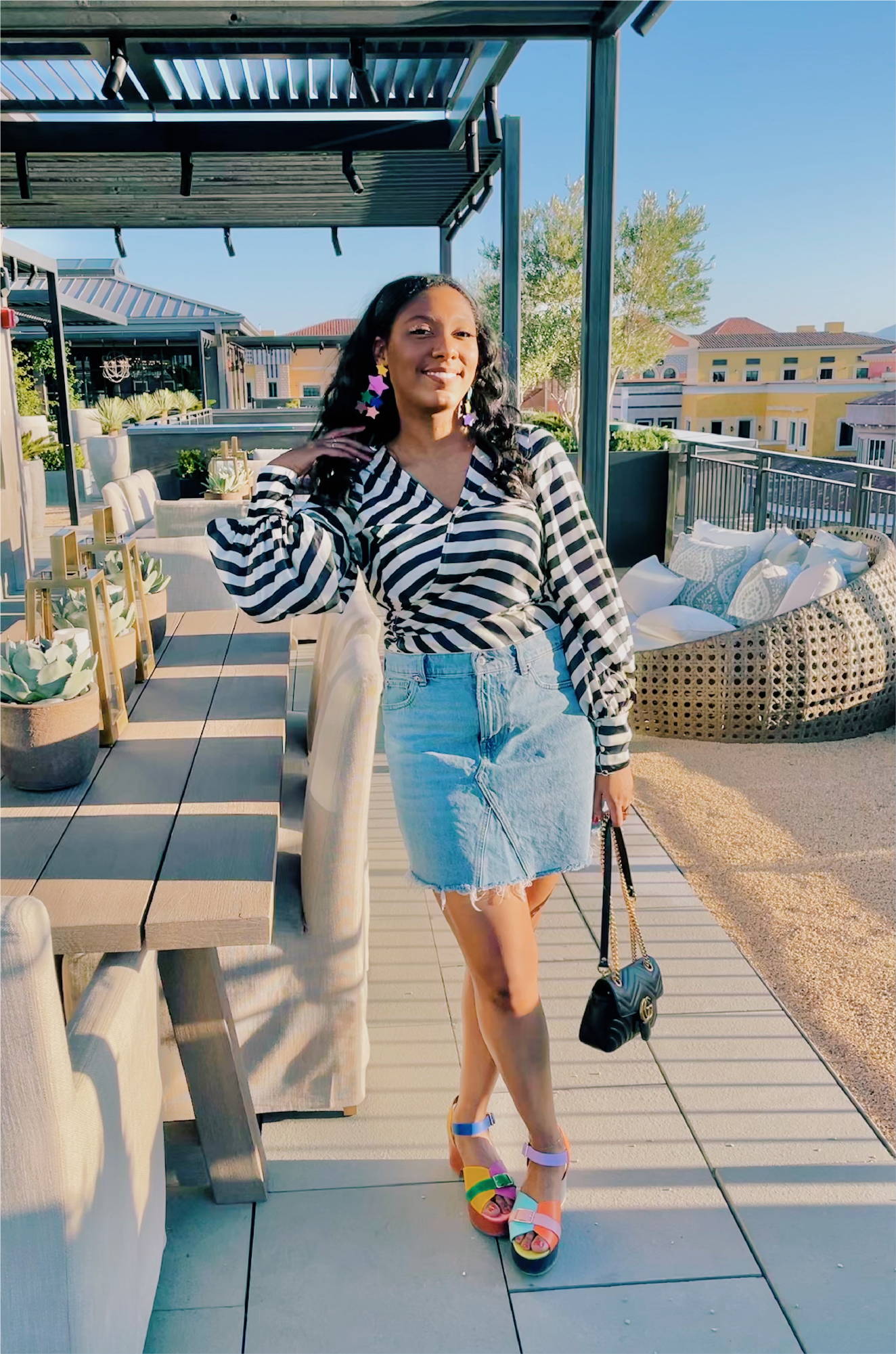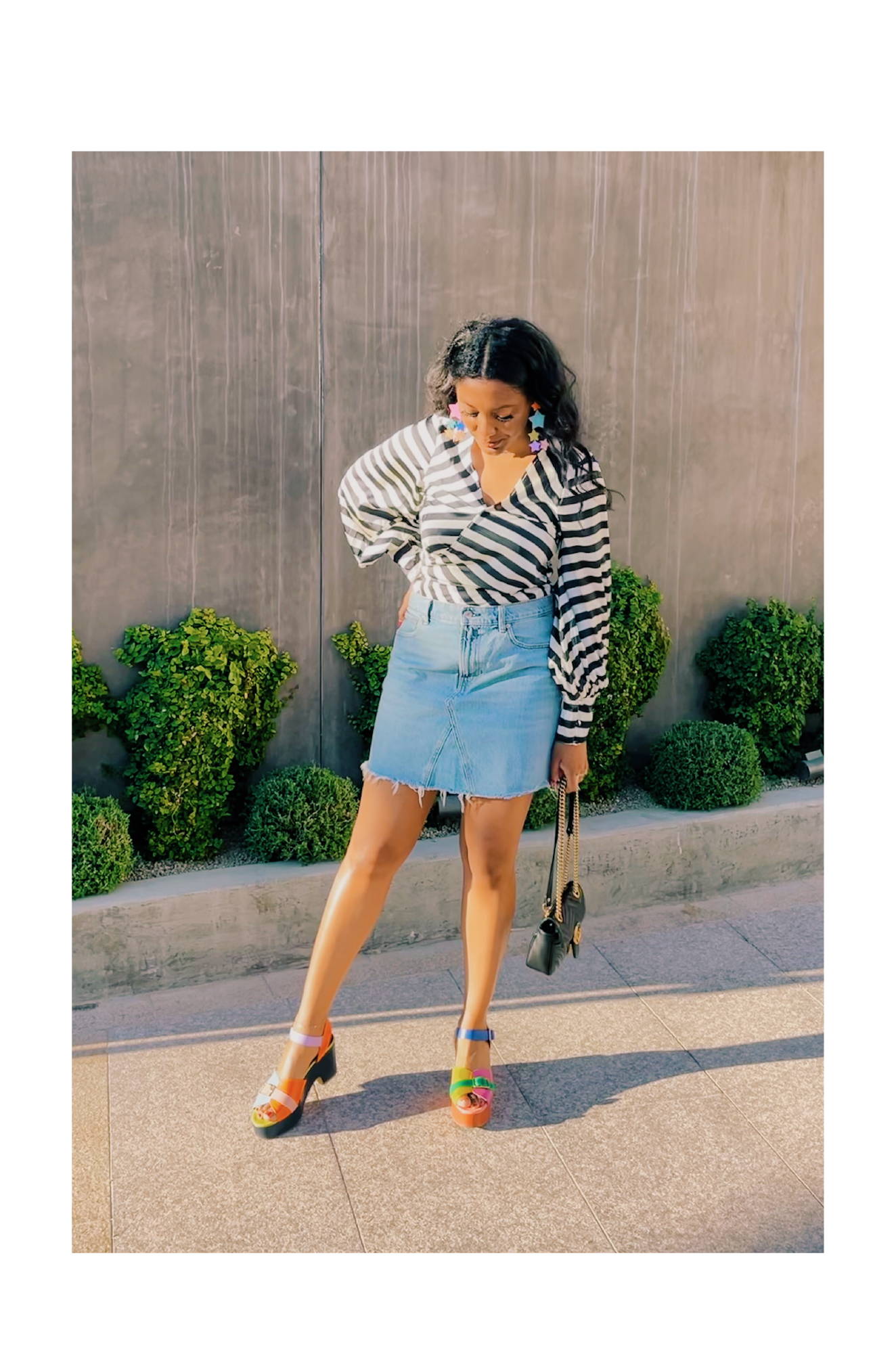 What article of clothing are you living in right now?
Denim Skirts are my jam this spring!
I feel so cute in them!

What "traditional" styling rule do you love to break?
I get a thrill from mixing patterns and textures. I love it. And also... give me ALL the accessories.
What is one weird fashion trend from your youth that you kind of wish came back?
Do you remember the mesh slippers with the sequins flowers? That would be fun. I would also love to see Jelly Satchels relive their glory!
What is one thing about yourself people might be surprised to find out?
As bold as I like to dress—I'm pretty introverted! I can be very outgoing from time to time but I really enjoy hanging out with myself and spending time at home 😅

---