MEET NINOSHKA
Ok yes, our shoes are real cute, but what's even more cute and cool and stylish and inspiring are all the badass people in our shoes. So this year, we decided to pass the mic to some longtime supporters and CS connoisseurs, and asked them to help bring our shoes to life. The challenge? Style one shoe three different ways and tell us a little bit about yourself while doing it. The result? As expected, incredible.
Keep scrolling to see what Ninoshka (@ninoshkadeleongill on IG) gets up to in our Pale Lime Carlos.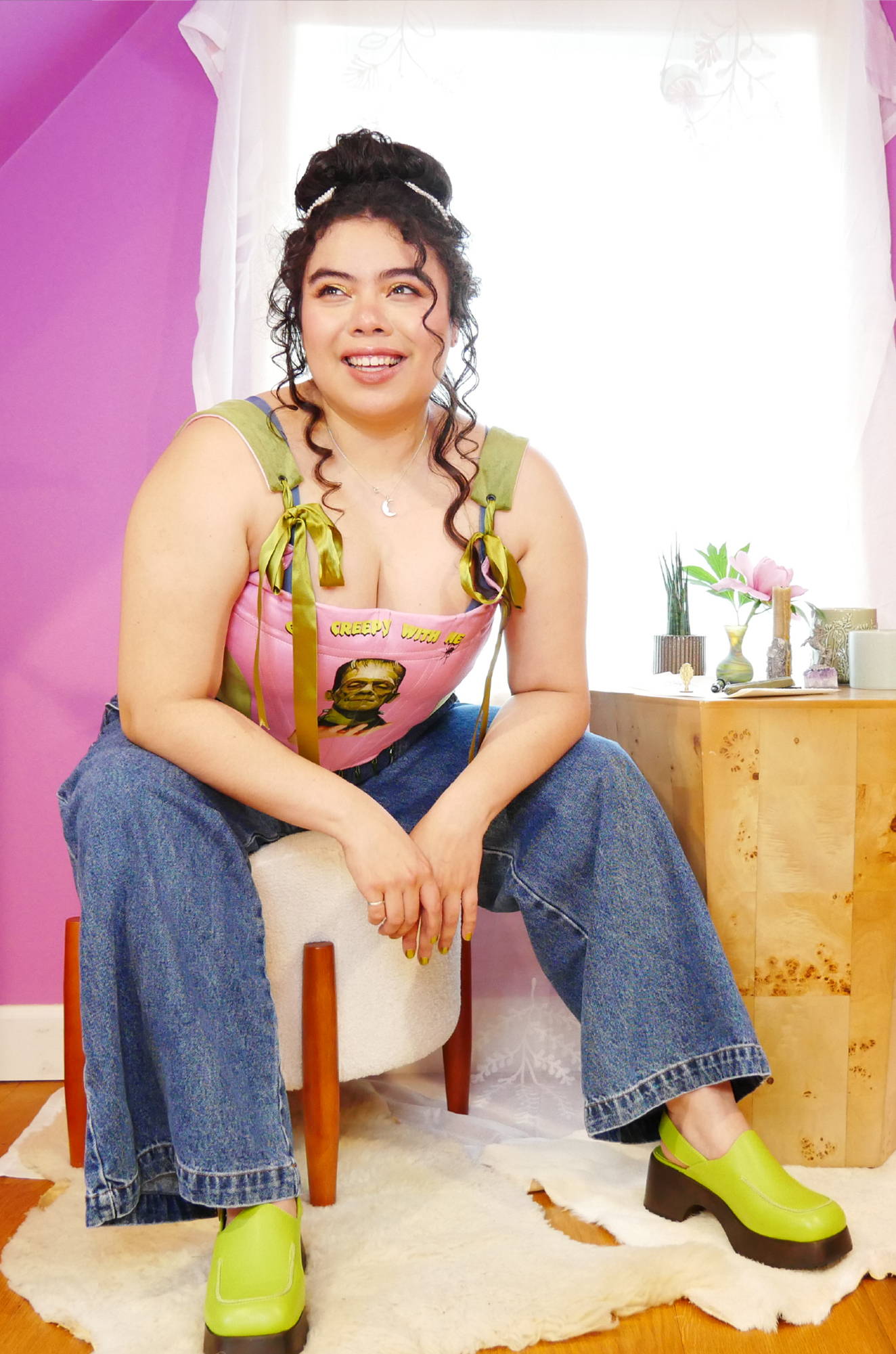 Who are you and what are you about?
Hello! My name is Ninoshka and I love color. I've always had an eclectic taste in fashion. Since I was a kid I wore what I loved and tended not to follow mainstream trends. I love thrifting and supporting women-owned businesses. That's something I'm very passionate about, supporting women. I'm a performing artist who is also a scientist. I love animals and nature. I studied Environmental Science in my undergrad. I've always been a dreamer, I have a big imagination and when I dream at night my dreams can last for days. My dreams inspire my art, as well as nature and stories and my relationships. I am currently working on choreographing sample pieces for a show I'd like to create. I'm very empathetic, and I feel very strongly for others. I always see the beauty in most everything, it stands out to me. I'm an animal lover through and through, I don't like to watch animals getting hurt in any way, even in cartoons, it makes me cry a lot. I don't have very many "basics" in my closet, I love colors and patterns. I think those are my basics!
Where are you from & where do you live now?
I grew up in the Catskills and I'm first generation Guatemalan American! Very proud to have parents from the beautiful and ever special Guatemala. I now live in Westchester, NY so I can be close to NYC for auditions and work.

How did you find out about Charlotte Stone?
I follow this wonderful store, The Swan's House, on Instagram, woman owned business, and the owner was wearing Lenu in Tropical and I had to own them! But the first pair of shoes I purchased were actually Paz in Thistle because Lenus were out of stock. I loved them so much I kept buying your shoes! I did finally get my Lenus on a restock too!

How do your feet measure up in our shoes?

A little about my foot shape: I have a Roman foot with a normal arch. It's more of a medium-to-wide width and I typically prefer shoes that do not taper at the toes but have either a square or rounded toe. The Carlos is a perfect fit for that exact reason! The square toe allows plenty of room for my toes to lie flat without being squished. I even have enough room to wear socks with them and the length is great. I am usually a US 8/8.5, EU 39 or UK 6 and I wear a size 9 almost across the board with Charlotte Stone! In the size 9 Carlos my foot fits perfectly to the length and width of the shoe, no squeezing, all comfort! Definitely one of my favorite Charlotte Stone shoes and as always, comfortable right out of the box.
Describe your style in three words.

Eclectic, whimsical, thoughtful.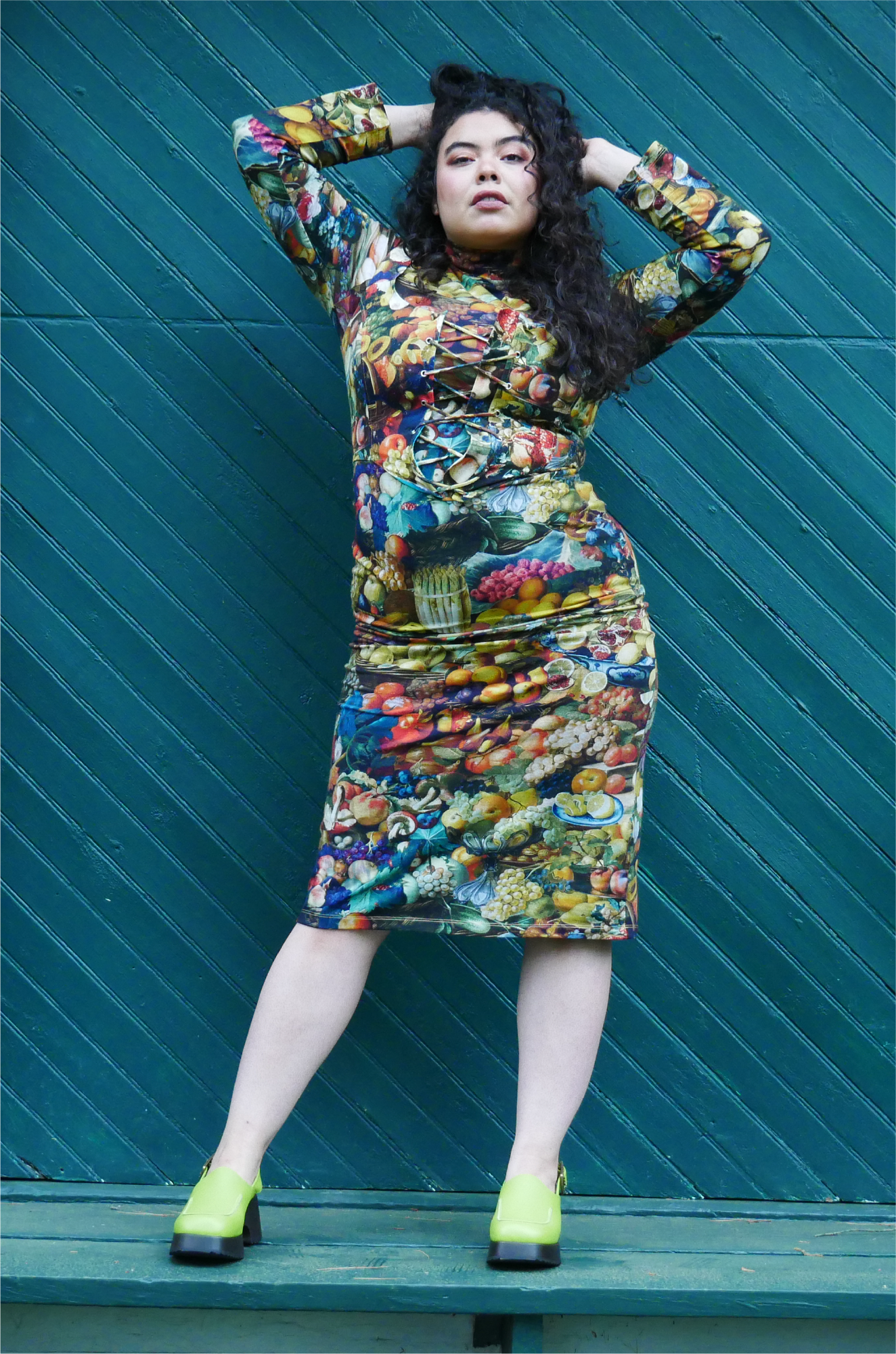 On an average day, you'll find me in:
Colorful sweats for dance or inspiring prints!
When I'm not working, you'll find me:
Dancing, creating, dreaming and loving.
What are you passionate about?
Loving others in however they need most. I try to be mindful of their comfort, not everyone needs physical touch but supporting my community in however they need is also a form of love. Like helping them learn something new or listening to their story or helping them with a project.

Who or what inspires or influences your style?
Oh, all sorts of things! Nature, people I see on the street or instagram, history, costumers, a show or movie, a really cool article of clothing or accessory, characters in books.
Do you have a style icon? Why are they your style icon?
I don't think I have just one, in the same way that I don't have just one style. I don't like to limit myself to one stream of looks; I like to pull from every era, from all sorts of pieces and inspiration. I could look like cotton candy one day and be a very seductive bat the next! I also love playing with masculine articles of clothing too. My dream is to finally have a three piece suit tailored to me size. One day!
What are you watching or reading or hobbying right now?
I'm so focused on dance right now and listening a lot to the Norwegian singer Aurora. She inspires me so much! I've been choreographing to some of her music. I've also been knitting and felting a bit, and I just bought my first sewing machine! Very excited. And I've been learning how to play the ukulele and Celtic harp. I've also been taking prerequisites for nursing school.
What three things could you not live without?
Music, fruit, and my puppy babies.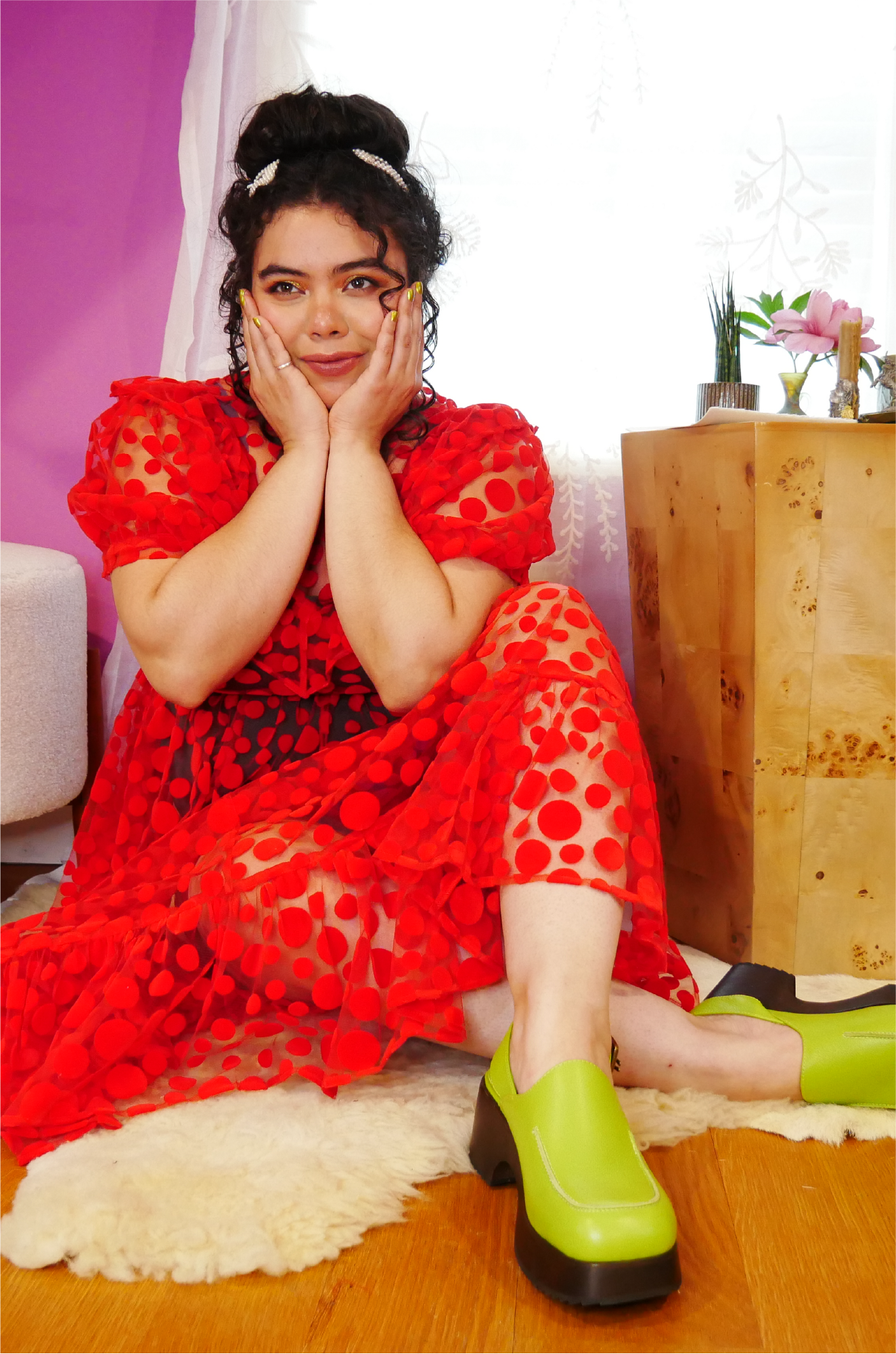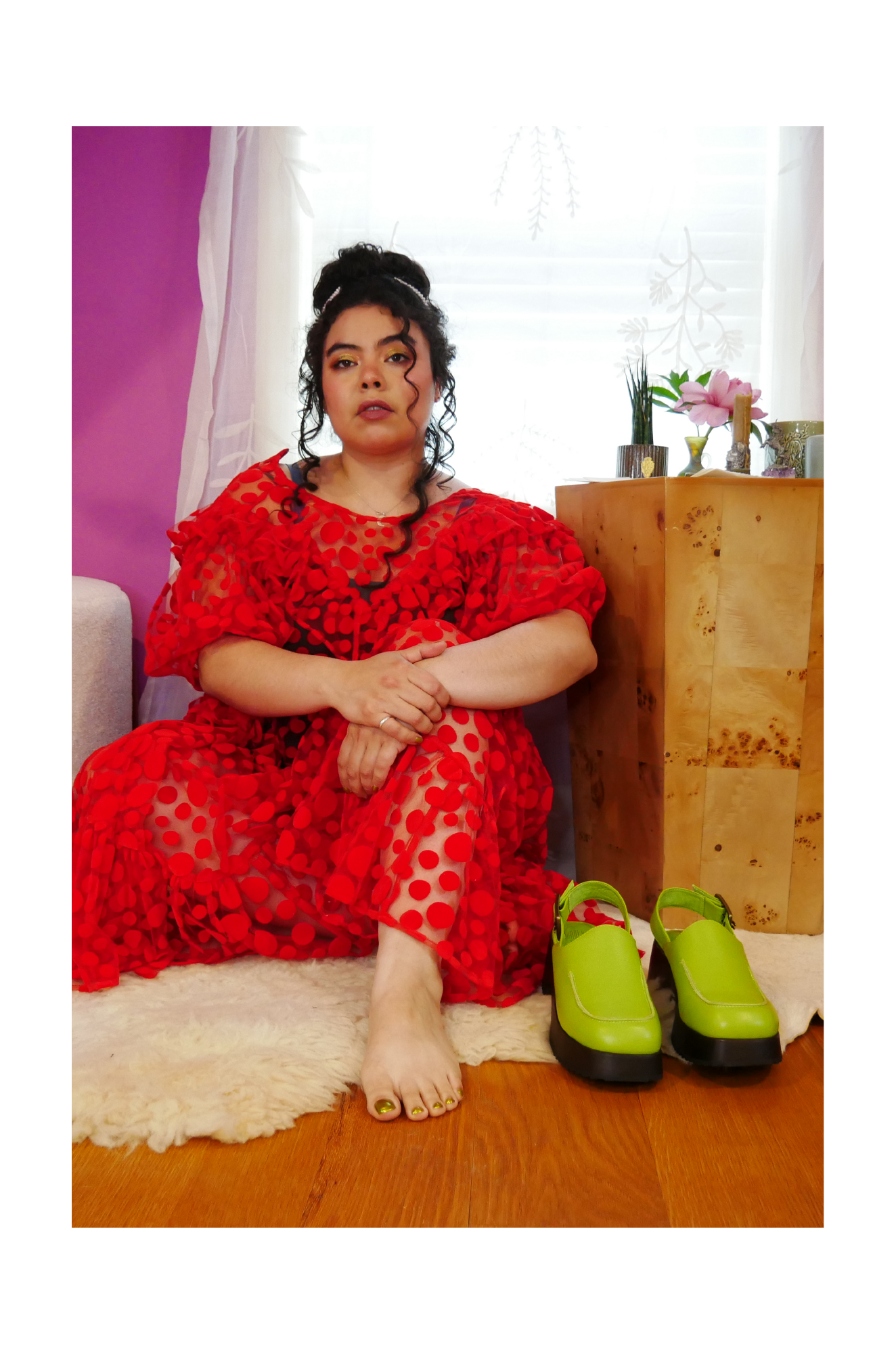 What article of clothing are you living in right now?
My "wake up" sweats from @mershymode and my @samanthapleet cape dress in crystal. 💘 So in love.
What "traditional" styling rule do you love to break?
Honestly, I don't even think about "stying rules". I never have, I wear what I love and that's all there is.
What is one weird fashion trend from your youth that you kind of wish came back?
This is hard! I think 90s style platform boots, like the black chunky smooth leather boots. I think that's why I'm so in love with your Paz boots! And also, they twist hair styles with the butterfly clips or twists into little buns. I might have to try it out again for fun!!
What is one thing about yourself people might be surprised to find out?
I'm very adventurous and love to travel, I love space and the idea of other life out there somewhere. However, I would never get into a space shuttle and risk being out in space in a tin can because I'm highly claustrophobic and just thinking about it stresses me out. Oh gosh no! I need fresh air!!
---