MEET PENNY
Ok yes, our shoes are real cute, but what's even more cute and cool and stylish and inspiring are all the badass people in our shoes. So this year, we decided to pass the mic to some longtime supporters and CS connoisseurs, and asked them to help bring our shoes to life. The challenge? Style one shoe three different ways and tell us a little bit about yourself while doing it. The result? As expected, incredible.
Keep scrolling to see what Penny (@penelopekibbe on IG) gets up to in our Tangerine Marlos.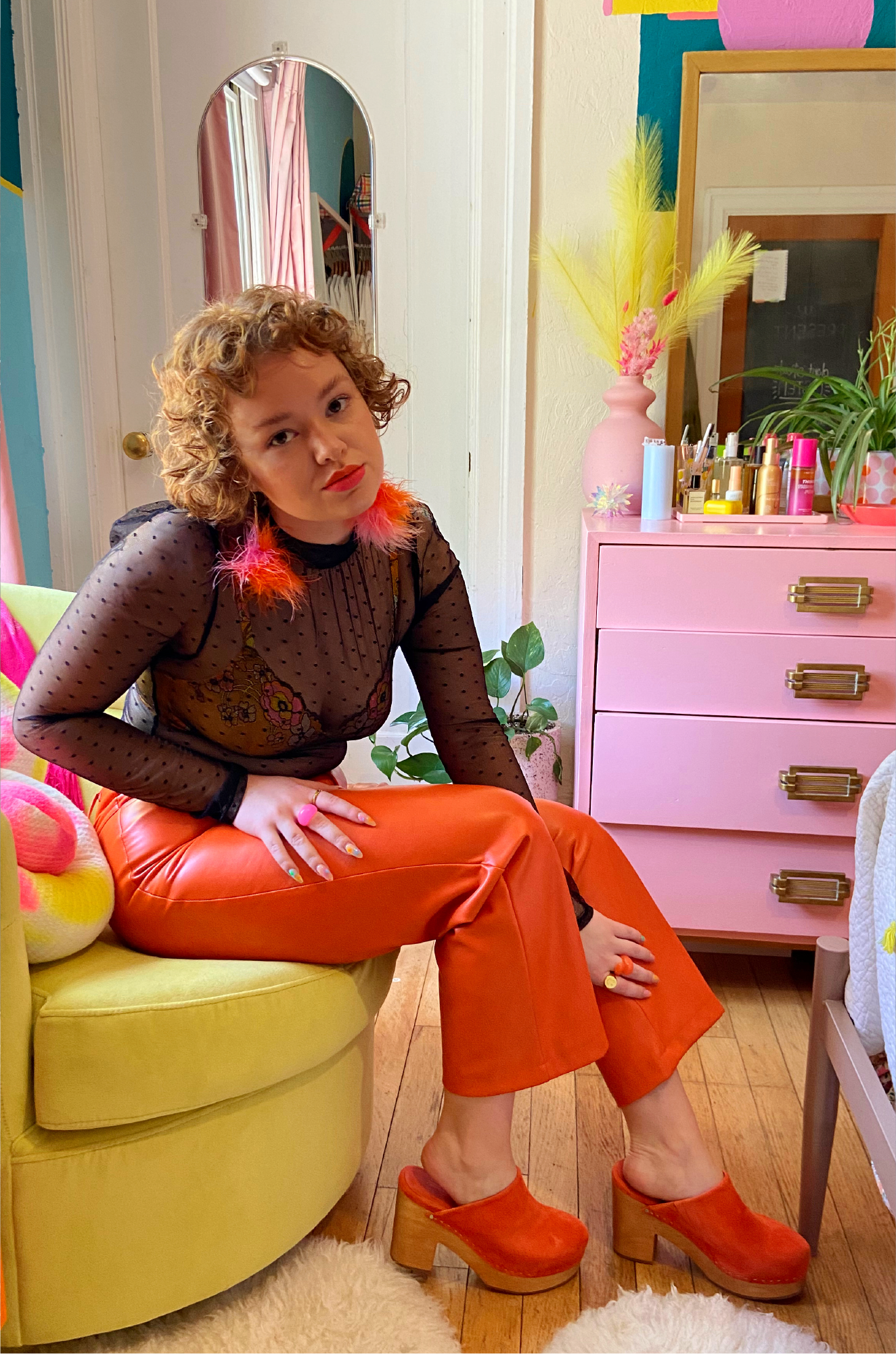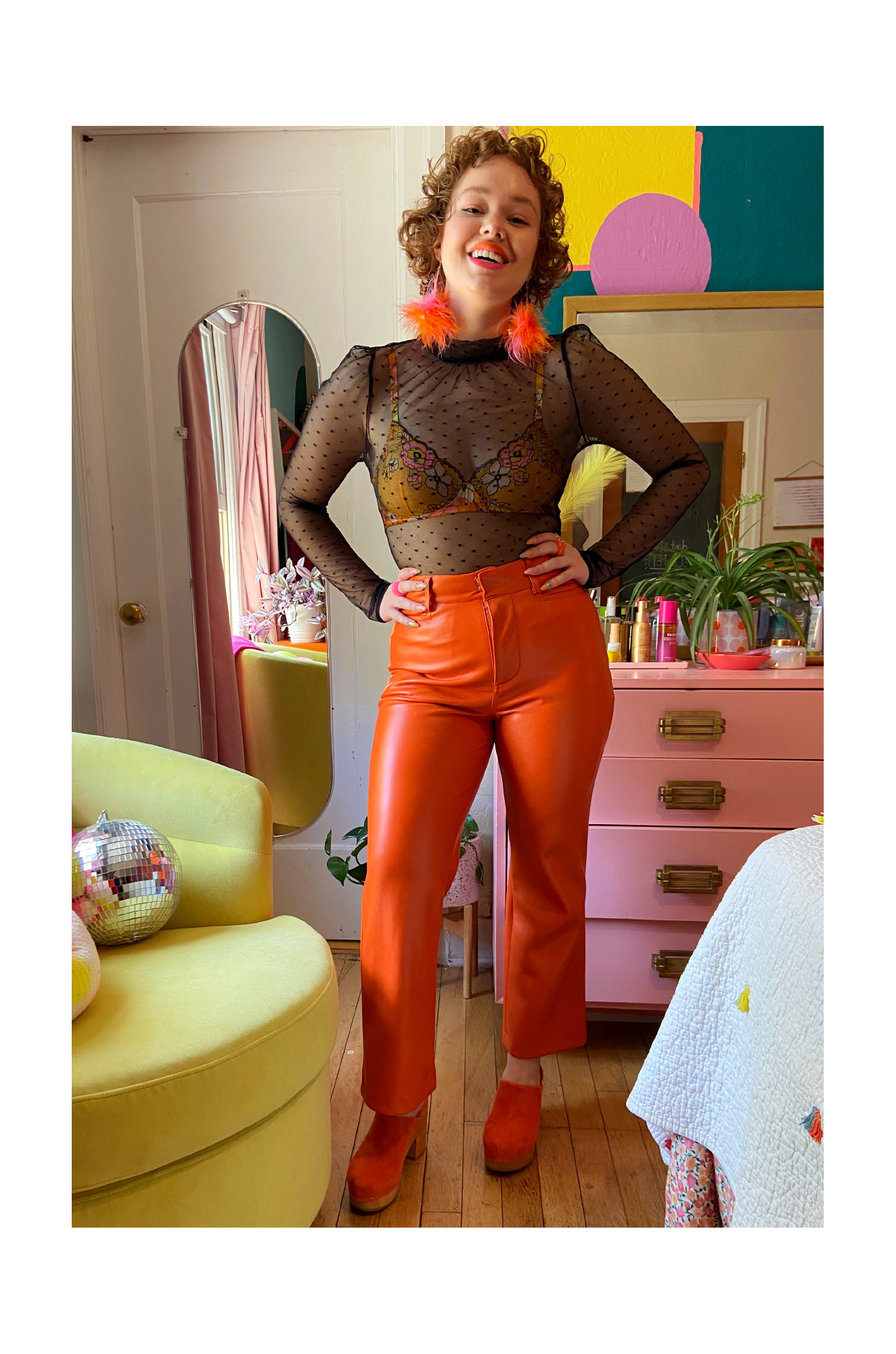 Who are you and what are you about?
I love surrounding myself with color and pretty things! I grew up learning to sew and completely fell in love with fashion and how clothes (and shoes!) can transform the way you feel. I love sharing my outfits on Instagram and helping people find their style through my feed and personal style consulting! I have a full time job as a social media coordinator for a sticker and stationery brand. I love crafts and incorporating creativity into my daily life. I'm constantly inspired by color and love sharing that with the world!
Where are you from & where do you live now?
Born and raised in San Luis Obispo, CA and still live there currently!

How did you find out about Charlotte Stone?
It's been a while, but it must have been Instagram! The moment I saw the colors and versatile, but oh-so-cute and funky styles I knew it was a match made in heaven.

How do your feet measure up in our shoes?

My foot is neither wide or super narrow, but i have very flat feet and really enjoy a shoe with more of a curve in the base so my foot can mold to it - which i why i love the Marlo's. They fit like a glass slipper! Upon first getting them there's little break in to do, which is rare! The leather is soft so it can easily stretch to the wider parts of my foot (toe knuckles) hehe.
Describe your style in three words.

Colorful, coordinated, thoughtful.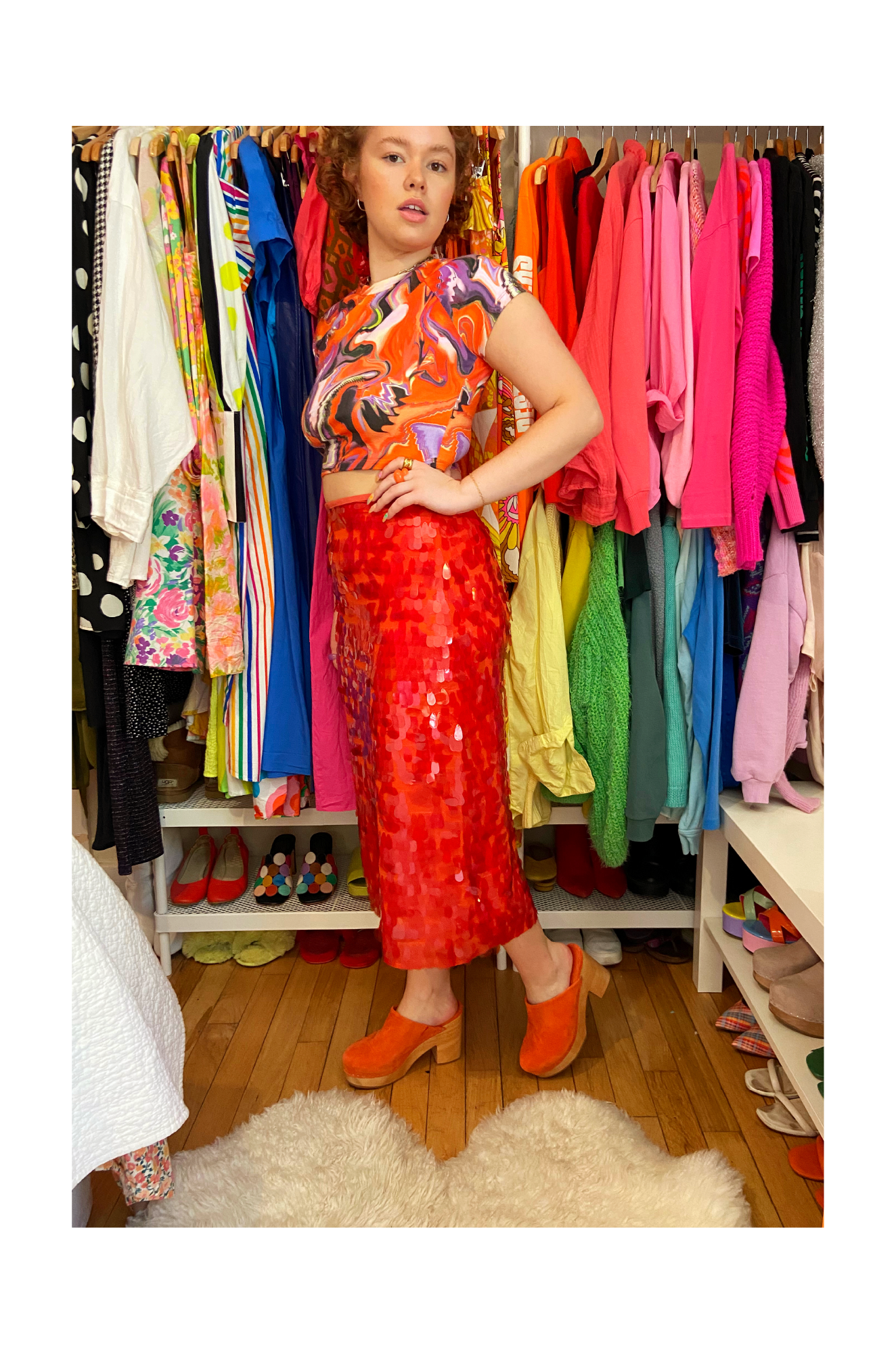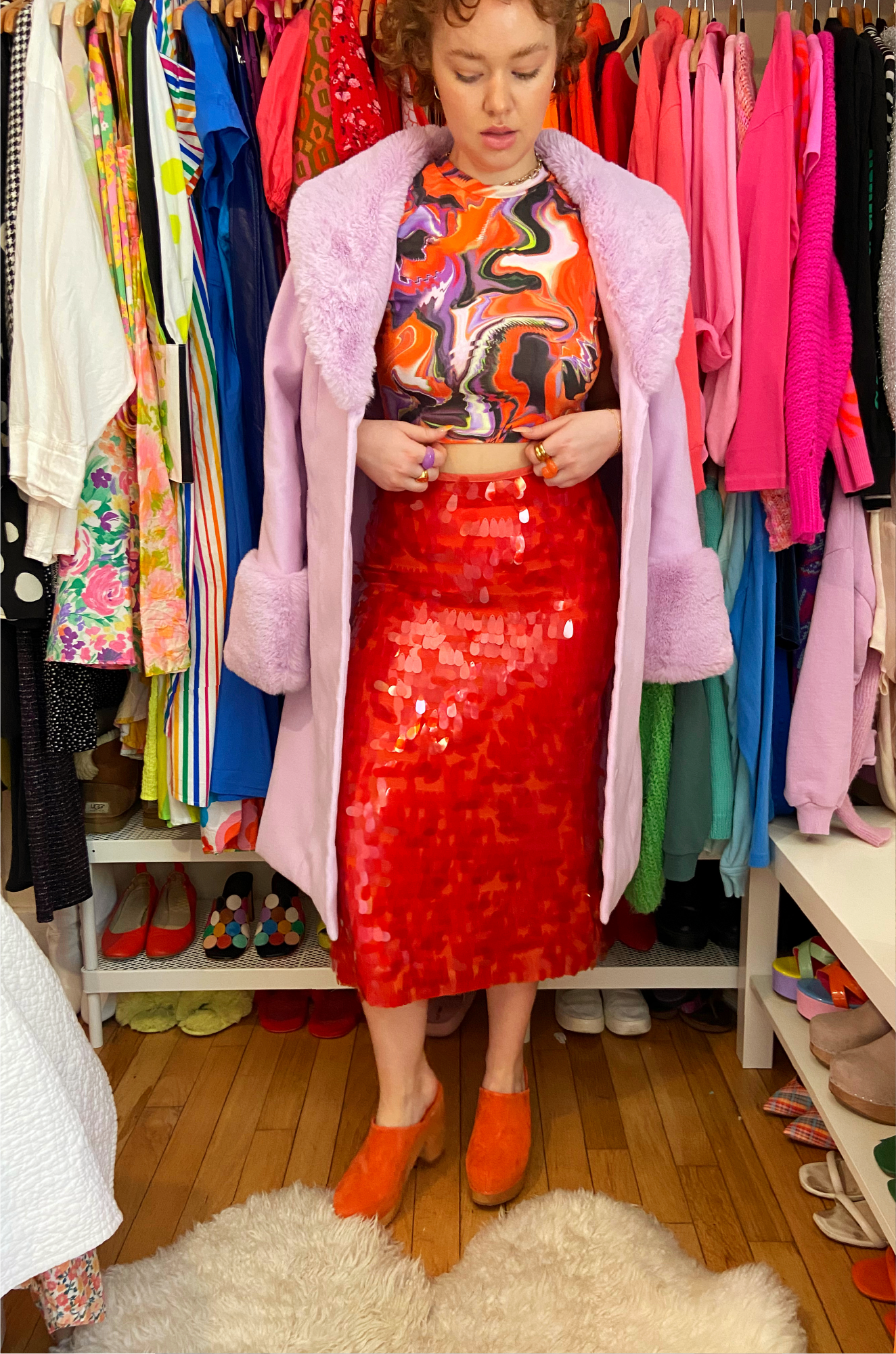 On an average day, you'll find me in:
Bodysuit or crop top, flowy skirt, and CS heels.
When I'm not working, you'll find me:
Brainstorming outfits, shopping online, binging a mini series as fast as I can, doing to yoga, crafting or sewing, painting my own press-on nails.
What are you passionate about?
Sharing my love of color & style with others. So many people are afraid of incorporating color into their wardrobe or home, but it doesn't have to be scary! It many ways it's beneficial to your mood and well-being and keeps things interesting! Plus, you have to wear what you love and surround yourself with things that make you happy.

Who or what inspires or influences your style?
My mother and aunt are huge style inspirations, they taught me to appreciate color. My job is definitely an inspiration; we are a very vibrant brand and totally obsessed with rainbows. Plus working in a design-focused environment is very influential in my life.
Do you have a style icon? Why are they your style icon?
Not really… the more I grow my own style the more I find myself focusing inward and just finding bits of inspiration from others I follow, know, or even see on the street. There is not a particular person and their style I've wholly identified with. I do find icons whose style I love and appreciate the most are those who do what they want, for themselves. People like Tracee Ellis Ross, Lady Gaga, Rihanna, Lil Nas X.
What are you watching or reading or hobbying right now?
Binging Roar and rewatching Ted Lasso for the billionth time. Reading Trust Yourself by Melody Wilding. Making the coziest knot pillows and working on my website and Society 6 shop.
What three things could you not live without?
A great cotton dress, sunshine, lip balm.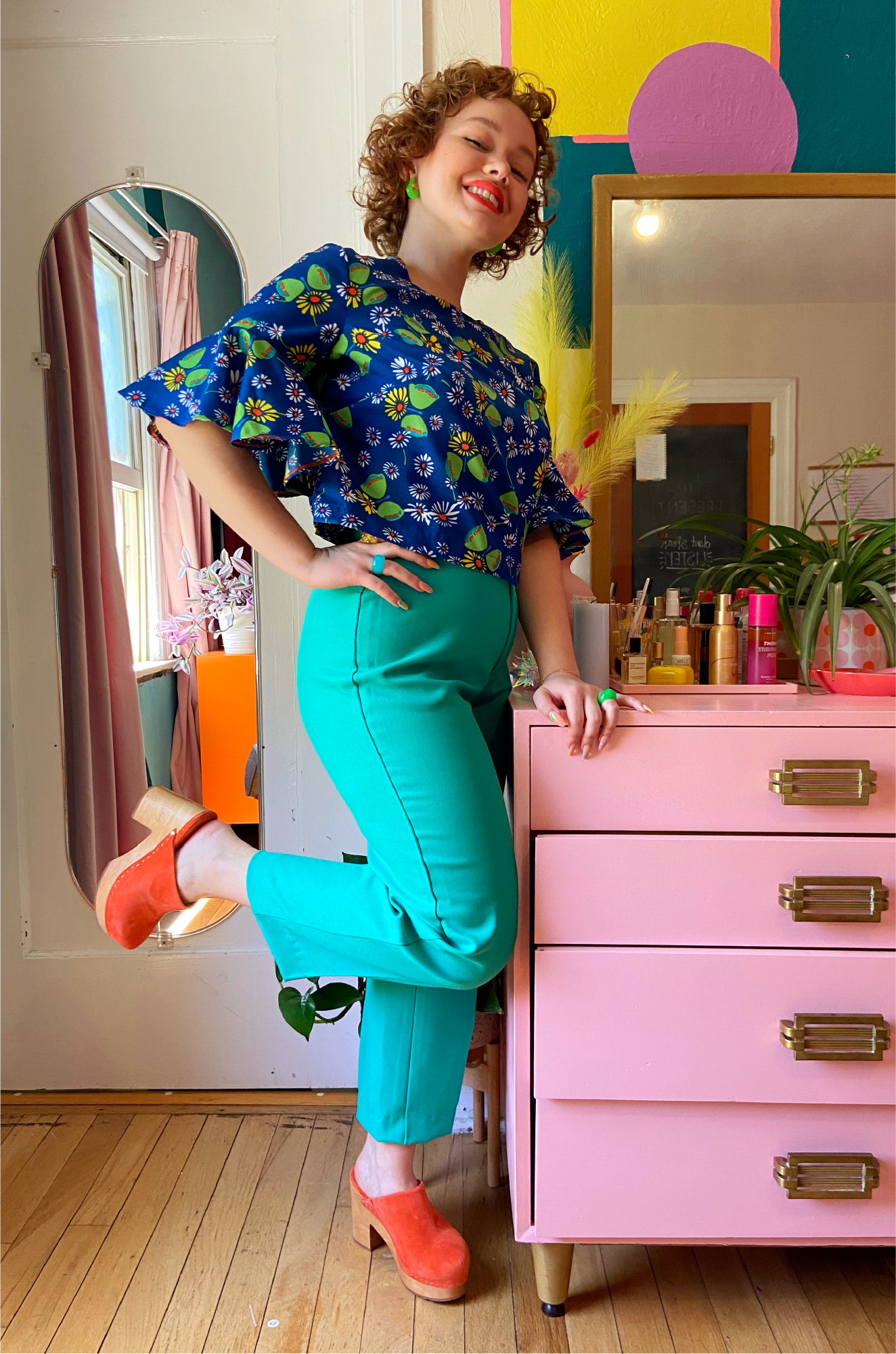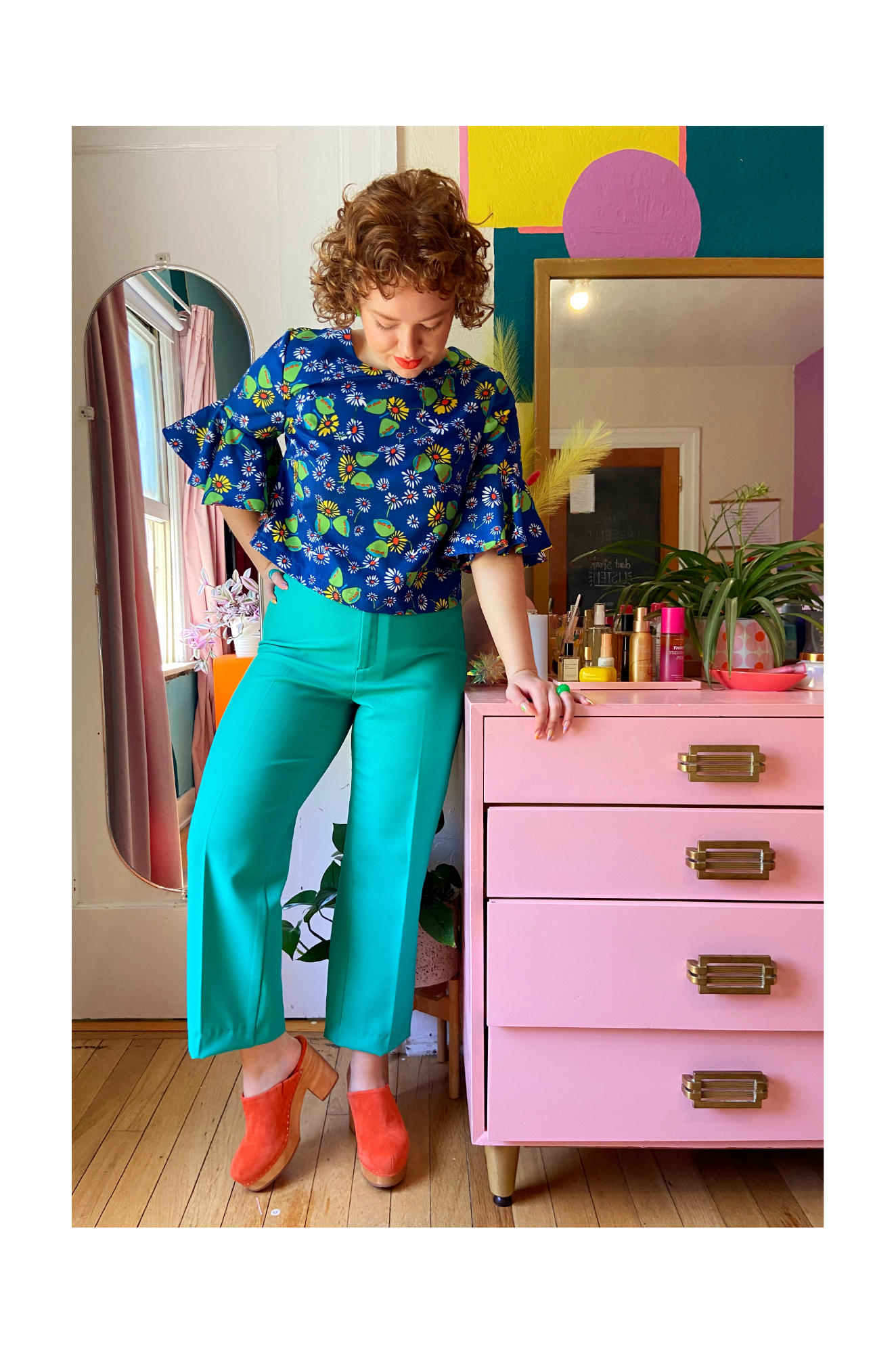 What article of clothing are you living in right now?
Bright sweatpants. I've obtained quite the collection of different hues, they have become a staple in my wardrobe and are more versatile than you think!
What "traditional" styling rule do you love to break?
Socks and sandals
(heels though, I barely wear flat sandals). More often than not will I wear socks with my Belles. It makes them a year round shoe, is so comfy, and it's such a fun element to add to an outfit!
What is one weird fashion trend from your youth that you kind of wish came back?
Cardigans—I loved a good cardigan with ANY outfit, especially if it matched lol! But it was so practical and layers are always a good idea.

What is one thing about yourself people might be surprised to find out?
I despise tie dye—super fun to make, don't like the way it looks.
---