MEET TAYLOR
Ok yes, our shoes are real cute, but what's even more cute and cool and stylish and inspiring are all the badass people in our shoes. So this year, we decided to pass the mic to some longtime supporters and CS connoisseurs, and asked them to help bring our shoes to life. The challenge? Style one shoe three different ways and tell us a little bit about yourself while doing it. The result? As expected, incredible.
Keep scrolling to see what Taylor (@sustainabletay on IG) gets up to in our Tobacco Biancas.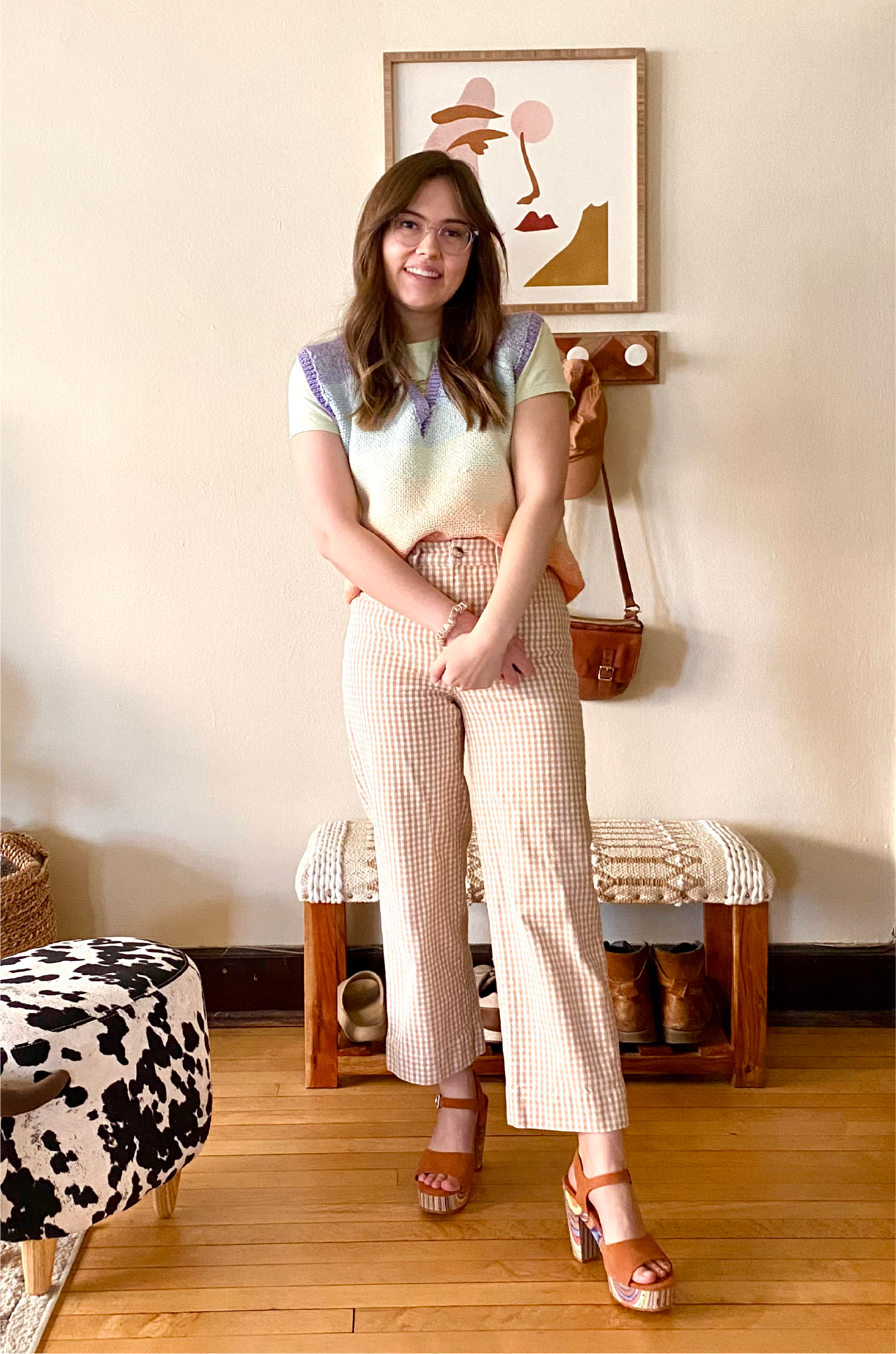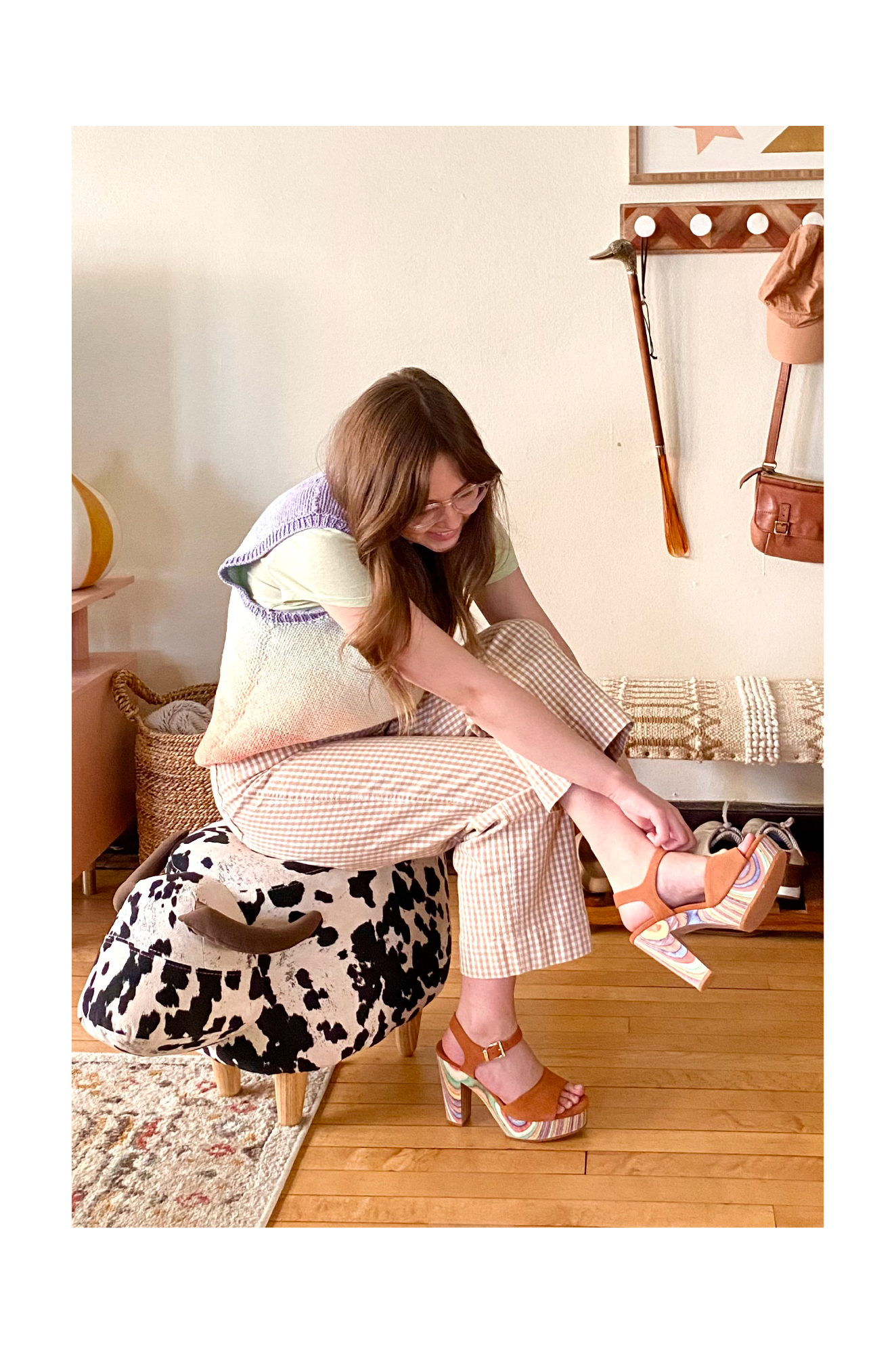 Who are you and what are you about?
My name is Taylor! I live in Milwaukee, WI and love thrifting and slow fashion. I love fashion, so anyway to make it more environmentally friendly is great for me! During the day I work as a media coordinator for a department store, but in my free time I love to try out new coffee shops and breweries and go to concerts.
Where are you from & where do you live now?
I have always lived in southeast Wisconsin!

How did you find out about Charlotte Stone?
Instagram.

How do your feet measure up in our shoes?
I have an average foot, leaning towards the narrow side with an average arch and typically wear a size 6.5 US in shoes, so the 7 works great for me!

Describe your style in three words.

Colorful, relaxed, classic.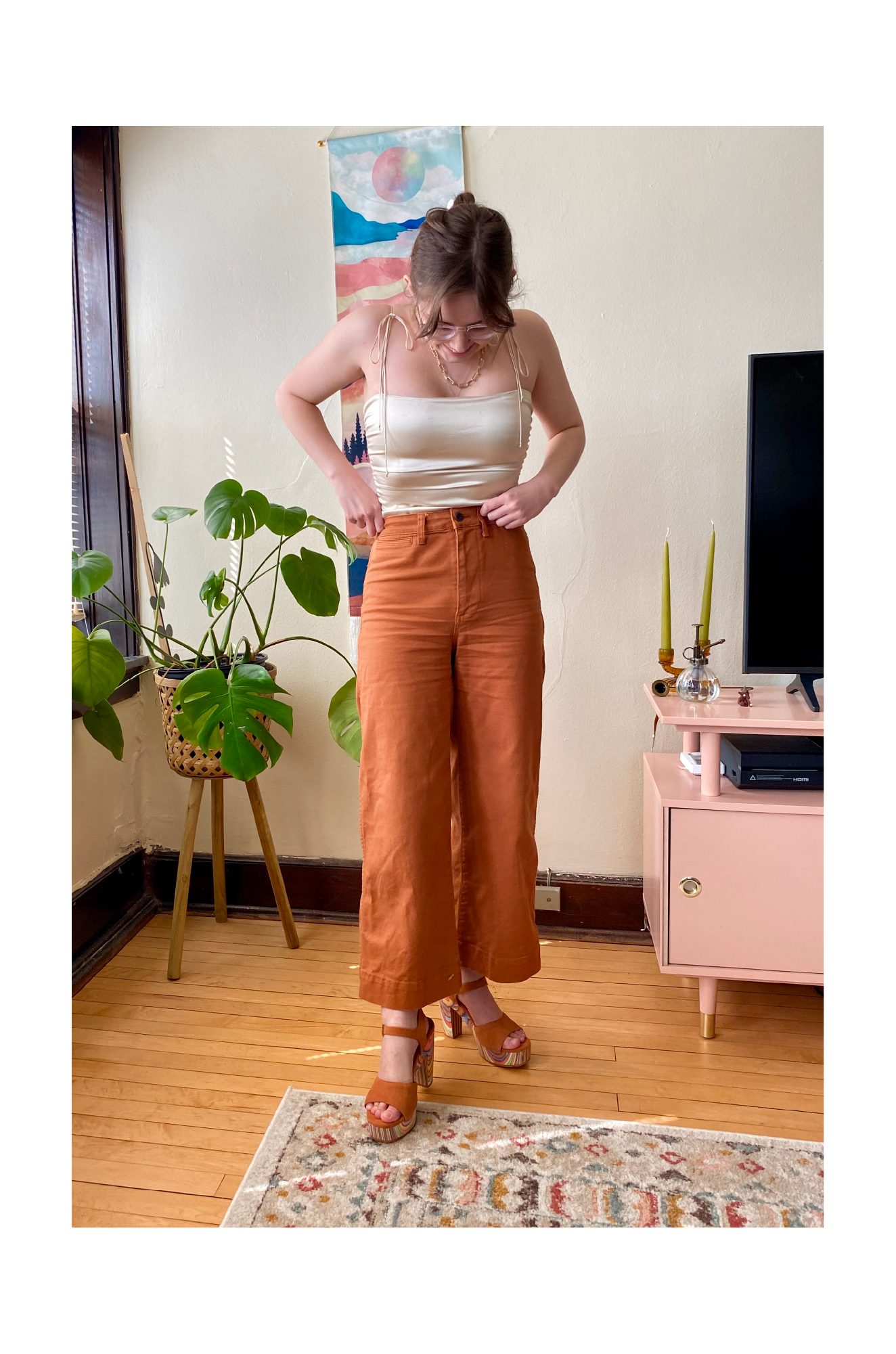 On an average day, you'll find me in:
A graphic t-shirt, chunky cardigan, thrifted jeans, funky earrings and sneakers.
When I'm not working, you'll find me:
At a local coffee shop or concert!
What are you passionate about?
I am passionate about raising awareness for the impact that our fashion choices can have on the environment,
sharing alternative ways of expressing yourself through clothing, in a sustainable way!
Who or what inspires or influences your style?
My style is influenced by other amazing creators on Instagram! @laurasupnik is the reason I learned about slow fashion and took an interest in it. @noelleandfox was the first creator that I found that had exactly the style I wanted. @readwritethrift wears so many colors and bold silhouettes that keep me interested in evolving my style. Lots of people on IG are so inspiring!
Do you have a style icon? Why are they your style icon?
From a young age, my style icon has always been Alexa Chung. She has such an effortless, "cool girl" style that is edgy yet feminine, but never too trendy. Her style is timeless!
What are you watching or reading or hobbying right now?
I am watching Joe Pera Talks With You and just finished reading Everything Is Horrible and Wonderful: A Tragicomic Memoir of Genius, Heroin, Love and Loss by Stephanie Wittels Wachs.
What three things could you not live without?
Ice cream, CBD and The Muppets.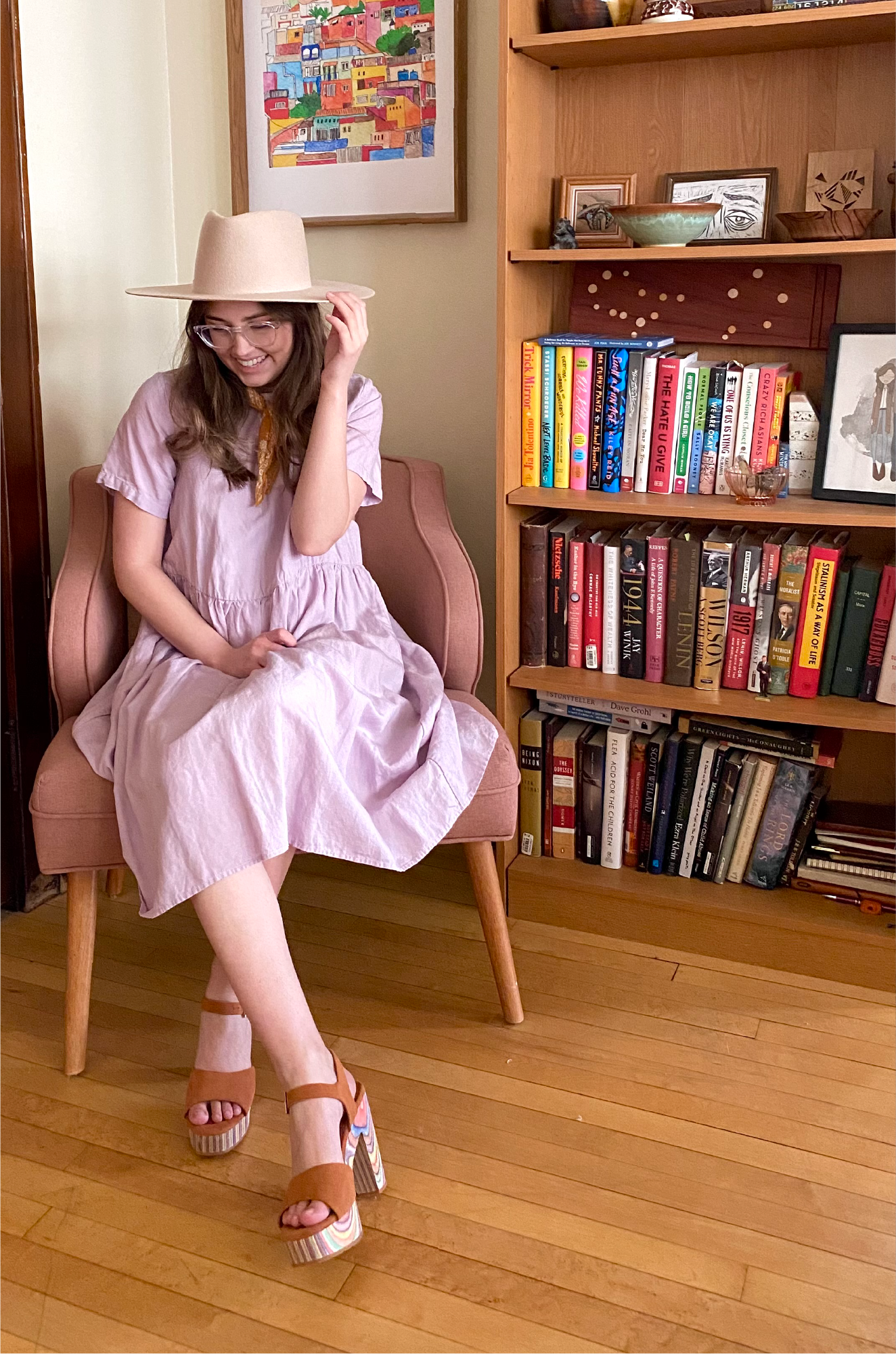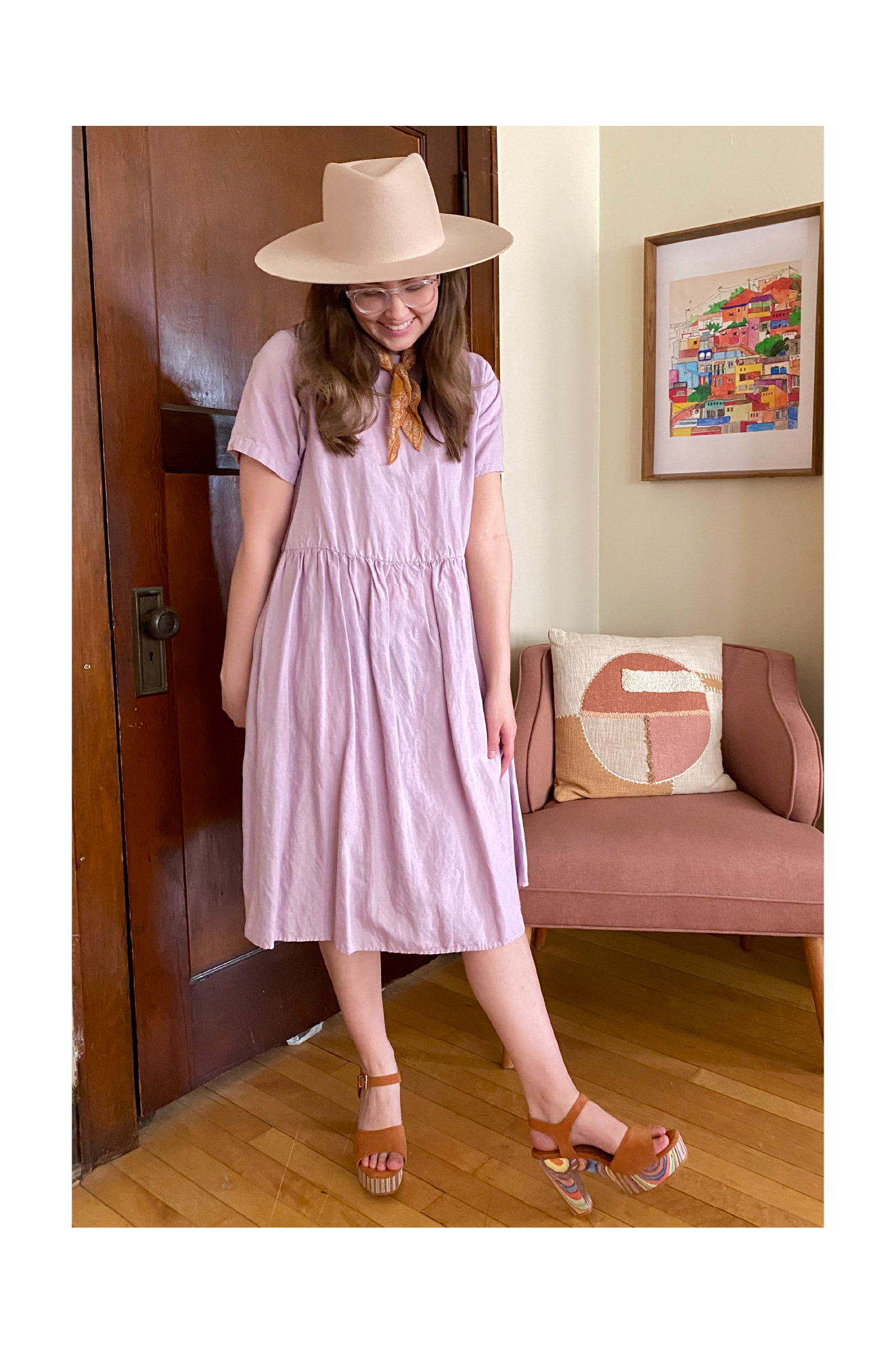 What article of clothing are you living in right now?
Shelter Cardigan from Tradlands.
What "traditional" styling rule do you love to break?
For some reason I was always told that you can't wear both earrings and a necklace, but I wear both almost every day!
Also white pants are great all year round.
What is one weird fashion trend from your youth that you kind of wish came back?
I grew up in the early 2000s and I'd be good with leaving all of those trends behind 😅
What is one thing about yourself people might be surprised to find out?
I have an eye condition which causes my pupils to be on the bottom of my eye instead of the middle, so it looks like I have cat eyes.
---